Buy Tickets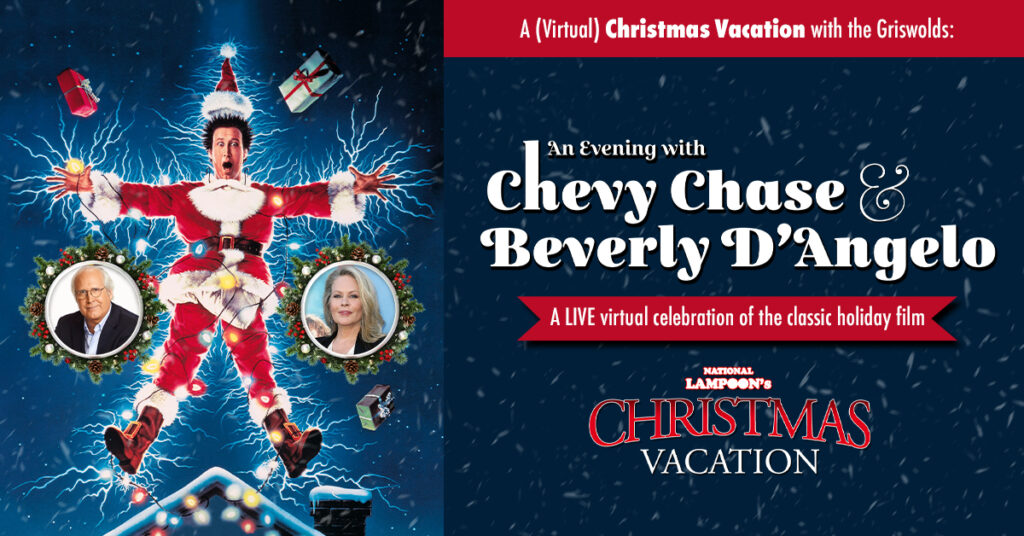 Digital Event: An Evening with Chevy Chase and Beverly D'Angelo
Saturday, November 28 at 8pm
Light up your holidays and join Christmas' favorite couple, Ellen and Clark Griswold for this virtual salute to the holiday classic, National Lampoon's Christmas Vacation. Chevy Chase (Clark) and Beverly D'Angelo (Ellen) lead audiences through this live event as they share fan-favorite clips from the movie, reveal their favorite memories from the making of the Vacation franchise and answer your questions in a live audience Q & A.
An original member of NBC's Saturday Night Live, Chevy Chase was the trailblazer who turned SNL success into Hollywood mega-stardom. The movies Caddyshack, National Lampoon's Vacation, Fletch, and Three Amigos all contributed to making Chevy Chase a world-wide household name.
Perhaps best known for her portrayal of Ellen Griswold in the National Lampoon's Vacation franchise, actress-singer Beverly D'Angelo has had an accomplished career spanning over four decades. Her acting resume includes roles in over 60 films and appearances in some of pop-cultures most celebrated television series including The Simpsons, Law & Order: SVU and Entourage.
Fans can expect the unexpected as these legends share a no-holds-barred trip down memory lane and unveil the behind-the-scenes secrets of the making of a blockbuster film franchise.
Add a new twist to your holiday tradition—gather the family and cozy up on the couch as we stream the Griswolds directly to your living room for this live virtual event that is fun for all ages. Chestnuts and eggnog recommended!

Running time: Approx. 60 minutes. Recommended for ages 10 and up. Access includes streaming for one device. Complete streaming instructions available at purchase link.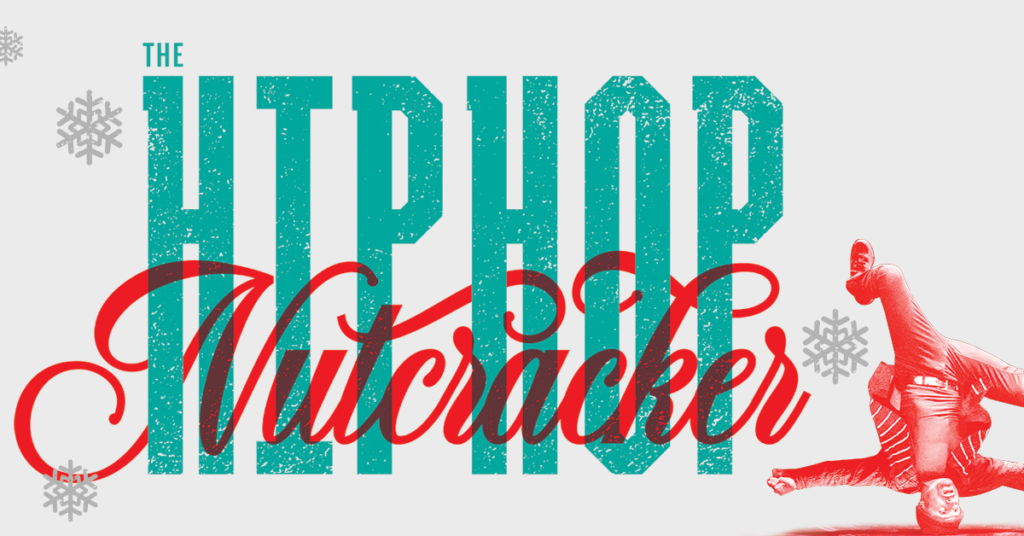 Digital Event: The Hip-Hop Nutcracker
Saturday, December 5 at 7pm
A holiday mash-up for the whole family, directed and choreographed by Jennifer Weber, THE HIP-HOP NUTCRACKER recorded live at the New Jersey Performing Arts Center is a contemporary dance spectacle set to Tchaikovsky's timeless music. A unique and joyful event, this evening-length production is performed by a supercharged cast of a dozen all-star dancers, a DJ, a violinist, and MC Kurtis Blow, one of hip hop's founding fathers, who opens the show with a short set.
Just like the original, in THE HIP-HOP NUTCRACKER, Maria-Clara and the Nutcracker Prince go on a dream adventure battling a gang of mice, visiting the land of sweets and learning the lessons of the holiday season. Innovative digital graffiti and visuals transform the landscape of E.T.A. Hoffmann's beloved story from traditional 19th Century Germany to the vibrant, diverse sights and sounds of contemporary New York City. 
Through this re-mixed and re-imagined version of the classic, the dynamic performers of THE HIP-HOP NUTCRACKER take us on a journey that celebrates love, community and the magic of the holiday season.
Upon completion of purchase, you will receive an email with instructions on how to login to the performance. On the day of the show, follow those instructions and you will be allowed entry when the performance is ready to begin.
General Admission must view at scheduled time (12/5/20 at 7pm).
VIP package performances are video on demand and allows viewer to watch over 48 hour window (following initial scheduled time) and view a post-show conversation with the show's creators. Post-show conversation will be live and will start at 85 minutes after the initial scheduled showtime. VIP package includes an autographed show poster. Purchaser must include address and phone in confirmation in order to receive.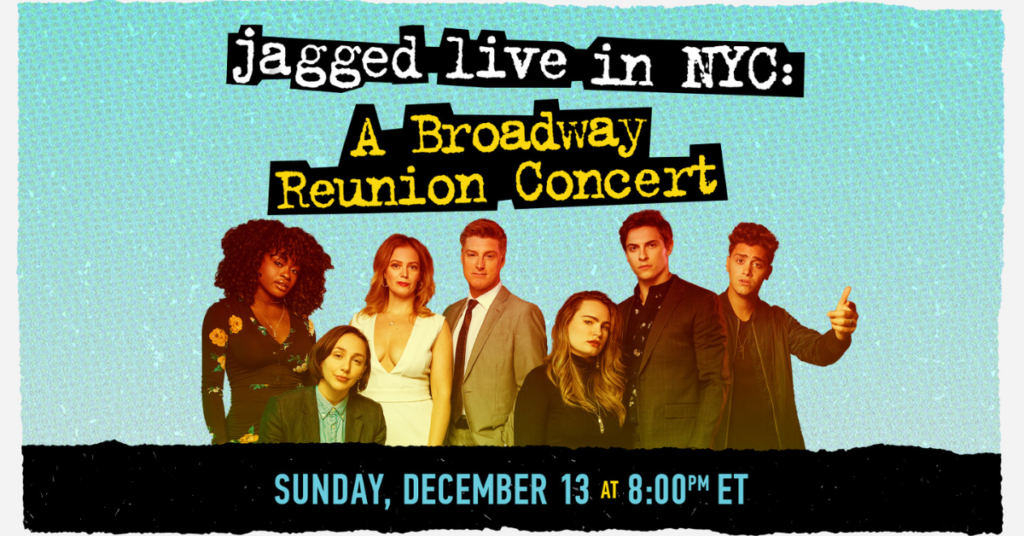 Digital Event: jagged live in NYC: A Broadway Reunion Concert
Sunday, December 13 at 8pm
For the first time in nearly 10 months, the Broadway cast of the 15-time Tony Award-nominated musical JAGGED LITTLE PILL is reuniting on stage for one night only – in a special performance live from NYC.

Jagged Live In NYC: A Broadway Reunion Concert will bring Elizabeth Stanley, Celia Rose Gooding, Sean Allan Krill, Derek Klena, Lauren Patten, Kathryn Gallagher, Antonio Cipriano, and more, to the stage of Shubert Studios at 787 Seventh Avenue for a night of searing performances – and an electrifying dose of collective joy – alongside the Jagged Little Broadway Band.

In the spirit of the vital #SaveOurStages movement that has risen during the Covid-19 pandemic, this concert event directly supports our nation's most vulnerable venues experiencing catastrophic revenue loss during this time of suspension for live arts.
Broadway at The National
Our Broadway at The National season will begin in 2021, and we look forward to sharing show titles and more information with you soon. Please know the safety of our theatregoers and employees is our highest priority, and that we appreciate your understanding and flexibility. To be notified when subscriptions and tickets go on sale for the new 2021 dates, please subscribe to our e-newsletter.
Out of an abundance of caution, The National Theatre administrative offices and Box Office will be closed until further notice. If you have any questions, feel free to email us at info@thenationaldc.com and please understand our response may be delayed as we anticipate processing many inquiries during this time.
Updated as of 11/1/20
WE'RE HERE FOR YOU
We know that right now, it can feel challenging to make future plans. Please know the safety of our theatregoers and employees is our highest priority. We are following the lead of our city, state, and federal elected officials as we implement strategies recommended by public health authorities and the Center for Disease Control (CDC) in our theatre and offices. We are prepared to make decisions about 2021 shows in response to changing conditions.
REAL-TIME UPDATES
Patrons may stay aware of updates by subscribing to our email newsletter, following us on social media, and visiting our website at TheNationalDC.com. Updates about specific shows will always be distributed to ticketholders first via email, so be sure to add info@thenationaldc.com to your safe senders list, address book, and/or primary inbox to ensure you receive our messages.
VENUE SAFETY & POLICIES
We will significantly increase the frequency of cleaning and disinfecting in all public and backstage areas beyond the standard daily schedule. We invite patrons to make use of soap, paper towels, and tissues available in all restrooms. More information about specific hygiene and safety policies will be provided to patrons prior to their shows, as needed.
TICKET POLICIES
We want you to purchase your tickets with confidence. Please be assured we'll always exhaust every option possible to ensure the health and safety of our audiences and staff. Our pledge to you:
If a local or state government has any restrictions in place prohibiting events at venues such as ­­­the National Theatre, and your event is canceled, you'll automatically receive a refund.
If your event is postponed or rescheduled, we will automatically move your tickets to the new performance date.
If you have been ill or are in high-risk group, please email info@thenationaldc.com and we will work with you to find an acceptable solution.
QUESTIONS
Please contact info@thenationaldc.com with any questions or concerns; however, please note that the Box Office and administrative offices are currently closed. We appreciate your patience and understanding during this time. Those patrons who purchased tickets via other channels should contact their point of purchase directly about refund policies.
All ticket purchases are final. No refunds or exchanges except in the case of an event cancellation.
If an event at The National Theatre has been cancelled, refunds will be made available at the original point of purchase. Tickets charged with a credit card by phone or internet are automatically credited to the purchaser's account. Those patrons who purchased tickets via other channels should contact their point of purchase directly about refund policies.
For group tickets, please contact the Group Sales Office directly at groupsales@thenationaldc.com.
For Covid-19 cancellations and questions, please refer to the Covid-19 Info Center above.
All patrons must present a ticket for entry to all ticketed performances. It is the policy of most shows that children under the age of 4 will not be admitted.
What is Vivid Seats?
Vivid Seats is the official resale marketplace of The National Theatre. Vivid Seats is one of the fastest-growing marketplaces for fans to buy and resell tickets to their favorite sports, concerts, and theater events nationwide.
Founded in 2001, Vivid Seats was created out of a genuine love for attending live events along with the mission of reinventing the ticket purchasing experience of an inefficient industry. Today, Vivid Seats is a clear leader in providing value – their unique approach delivers full consumer protection at discounted prices.
National Theatre Customer Benefits
Sell your event tickets
Buy event tickets
Dedicated contact information for National Theatre customers
Ultimate Flexibility
Frequently Asked Questions
Contact Vivid Seats
Your Visit
The National Theatre is located downtown at 1321 Pennsylvania Avenue NW, Washington, DC 20004, facing Pennsylvania Avenue and overlooking Freedom Plaza.
If arriving by metro, the venue is closest to Metro Center (Red, Orange, Silver, Blue) and Federal Triangle (Orange, Silver, Blue).
The following parking lots are within walking distance of the venue. Please note that The National Theatre cannot guarantee availability.
1220 E Street, NW – Enter on E Street between 12th and 13th Streets
1300 Pennsylvania Ave, NW (Ronald Reagan Building and International Trade Center) – Enter on 13 ½th Street off Pennsylvania Ave
1325 G St, NW – Enter on G Street between 13th and 14th Streets
1331 Pennsylvania Ave, NW – Enter on 13th Street between E and F Streets
1301 Pennsylvania Ave, NW – Enter on 13th Street
1424 F St, NW (The Willard InterContinental) – Enter on F St between 14th and 15th Streets
The following locations may have valet parking available. Please note The National Theatre cannot guarantee availability, and valet parking may be dependent on a purchase or dining at the related hotel.
515 15th St, NW (The W Hotel) – Enter on 15th Street between Pennsylvania Ave and F St
1455 Pennsylvania Ave, NW (The Willard InterContinental) – Enter on Pennsylvania Ave between 14th and 15th Streets
1331 Pennsylvania Ave, NW (The JW Marriott) – Enter on 13th Street between E and F Streets
ASSISTED LISTENING DEVICES
The National Theatre is equipped with FM frequency assistive listening devices. You may use your own headphones, or they will be provided for you. In addition, neck loops are available that are compatible with t-coil hearing aids. Assistive listening devices are available at Coat Check, and are offered free of charge, on a first-come first-served basis. A driver's license or valid ID is required as security.
AUDIO DESCRIBED PERFORMANCES
Select performances are narrated by volunteers from The Metropolitan Washington Ear. Patrons can listen via lightweight earphone sets. You will hear detailed descriptions of sets, lighting, costumes, body language, and actions on stage. Devices are available at Coat Check, and are offered free of charge, on a first-come first-served basis. A driver's license or valid ID is required as security.
OPEN CAPTIONED / ASL PERFORMANCES
Open Captioning is a text display of the words and sounds heard during a production. Select performances offer Open Captioning and tickets are available by contacting The National Theatre offices at 202-628-6161 or via email at boxoffice@thenationaldc.com and require a minimum 3 week notice for the service to be confirmed. Requests for sign language interpretation must be made in advance and are pending availability.
WHEELCHAIRS
Wheelchair and scooter users can be accommodated in all sections of the theatre. Patrons who cannot or choose not to transfer from their wheelchairs should request wheel-chair accessible locations when ordering tickets. For accessible seating, please call The National Theatre offices at 202-628-6161 or via email at boxoffice@thenationaldc.com. Wheelchair accessible restrooms are located on the third and fourth floors of the theater. An elevator is available off the main lobby.
ELEVATOR
The National Theatre has one public elevator, located to the right of the main entrance. This elevator provides access to all levels.
SERVICE ANIMALS
Trained service animals are permitted to assist guests inside The National Theatre. If special accommodations are required for your service animal, please notify us at the time of ticket purchase or by calling 202-628-6161 ext 243. Guests bringing in service animals may not take up additional seats unless a ticket has been purchased for the adjacent seat, but may request accessible seating. All other animals are prohibited.
Support
The National Theatre Corporation is the 501(c)(3) non-profit entity responsible for the continued operation and preservation of The National Theatre. Donations to The National Theatre Corporation help fund necessary capital improvements and maintenance to preserve this historic facility. Additionally, contributions support free community and educational programming, and make possible the management of a vast, content-rich archive. Make your tax-deductible contribution to The National Theatre Corporation:
Please consider joining us in our efforts to maintain our 185-year tradition of providing powerful cultural programming for the greater Washington community by becoming part of our family with a Circle Membership! Your tax-deductible contribution provides you with many unique Circle Member benefits, including those listed below, and helps support The National Theatre Corporation's free public outreach and educational programs.
$1,000 – The National Theatre Circle
$2,500 – Helen Hayes Circle
$5,000 – Director's Circle
$10,000 – Producer's Circle
$15,000 – Artist's Circle
Memberships include:
Invitations to attend a Meet the Cast Reception • Invitations to the Annual Donor Celebration • Private • Backstage tours • An invitation for you and a guest to the Chairman's Annual Gathering • Artist Meet-and-Greet Opportunities • Exclusive Access to Purchase Premium House Seats • Invitations to attend pre-show lecture given by our resident dramaturg • First access to exclusive Donor Trips • An invitation for two to a private dinner with our Executive Director • Private Artist Meet-and-Greet Opportunities • and MORE!
$60 – Friend of The National: Associate Membership
$125 – Friend of The National: Patron Membership
$250 – Friend of The National: Sustaining Membership
$600 – Friend of The National: Benefactor Membership
Memberships include:
Members-Only Digital Newsletter with Insider Information (4x a year) • Advance notice of performance calendar • Friend of The National Membership Card • Special Friends of The National gift • Members-Only ticket priority for subscription packages • Dedicated Hotline • Recognition in The National Theatre Playbill for one year • Surprise Perks throughout the Season • Redeemable voucher for a reusable National Theatre tumbler — use at performances for a drink discount (one time only) • and MORE!
WE SAVED A SEAT FOR YOU
Dedicate a seat in our theatre with a beautiful brass commemorative seat plate in your name, or to honor a relative, friend, or organization of your choice.
As the longest standing Washington performing arts institution, the history living in our Broadway-style theatre is rich and compelling. From our nation's Presidents to our countries' most treasured stars, we have been a cultural home for this city and for America for over 180 years.
We invite you to add your name to this heritage and contribute to the future of The National.
For over 180 years, The National Theatre has been emblematic of the Capitol's growth and development, and considered one of America's premier theatrical treasures. Since its earliest days, Presidents from Andrew Jackson to Abraham Lincoln to John F. Kennedy traveled the short distance from the White House to The National. Virtually every major theatrical star in the nation's history has graced The National's stage. Among them: Robert Redford, Sarah Bernhardt, Katherine Hepburn, Angela Lansbury, Brian Stokes Mitchell, Ian McKellan, Pearl Bailey, Sting, and Idina Menzel. This theater has meant so much to so many. If The National has a place in your story, your name deserves a place in our theatre.
Contribution
Like theatre tickets, the seat contributions vary by location – from $500 in the Balcony to $1,500 in the center Orchestra. Since The National Theatre is a 501(c)(3) non-profit cultural organization, your contribution is deductible as a charitable contribution to the full extent of the law.
To Request A Seat Dedication
Fill out the form included in the Program Brochure. If you have any questions, contact Mason Boudrye at 202-783-3370 or mboudrye@nationaltheatre.org.
Community Programs
The National Theatre seeks to share the power of the performing arts as catalysts for human connection. Therefore, in addition to quality touring productions on the main stage, The National also presents the following free programs to engage with community members in Washington, DC and beyond.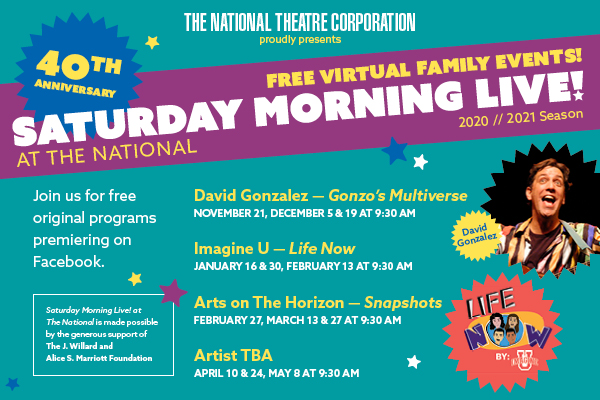 The Saturday Morning Live! At The National program is celebrating its 40th anniversary this year and has delighted children for years with performances designed to engage and inspire the young mind. Virtual performances by nationally known educators and artists encourage children to look outside their communities and discover a world of wonder. New episodes premiere every other Saturday at 9:30 AM via Facebook Premiere. This programming is best suited for children 4-10 years, but siblings and friends of other ages are always welcome to join the fun.
Poet, musician, and multimedia artist David Gonzalez will be presenting Gonzo's Multiverse on Nov 21st, Dec 5th, and Dec 19th. Learn more here. View episodes from our previous series of shows here.
If you have any questions about Saturday Morning Live! At The National and the virtual season this fall, please contact Emily Schmid at eschmid@nationaltheatre.org.
The Community Stage Connection program has connected communities that have limited access to the arts in the Greater Washington area with live arts experiences for over 30 years. We work with non-profit organizations that serve communities with limited resources and mobility to bring easily transportable theatrical and musical performances free-of-charge to these communities. With the help of a generous donor that has been supporting this program through its tenure, our local artists are paid an honorarium for their work. This year, due to COVID-19, we are working with our partners to host virtual performances with their favorite artists to entertain and interact with communities during these unprecedented times.
Teens Behind the Scenes, The National's newest community program, enhances the education of high school students by providing invaluable access to Broadway productions. This program welcomes dedicated students with an interest in theatre to engage with shows in the Broadway at The National season and to participate in a post-show talkback with dramaturg Jared Strange and special guests.
Due to the cancelation of performances in 2020 because of COVID-19, Teens Behind the Scenes will present five microsites based on materials found in The National Theatre Archives on various topics pertaining to The National over the years and its position in American theatre history. Learn more about the history of The National Theatre at our first microsite here.
At The National Theatre, we deeply value the opportunity to facilitate these meaningful programs, and hope to continue doing so for years to come. If you're interested in supporting us to grow the impact of our work, please visit our donations page.
About
Located on Pennsylvania Avenue near the White House, The National Theatre opened in 1835 and is the nation's oldest venue still presenting touring Broadway.
The National has operated as a theatre longer than any other major touring house in the United States and is the oldest cultural institution in the Nation's Capital. The theatre opened its doors for the first time on December 7, 1835, with a production of A Man of this World. The building has been destroyed by fires four times and collapsed once, but part of the original foundation can still be seen in the basement of the present structure!
The National Theatre has played a vital role in history by hosting presidential inaugural balls, world premieres of landmark American musicals, presidential command performances of national artistic merit, and the first presentation of the coveted Helen Hayes Award. Lincoln learned of his nomination to a second term while attending a performance at The National Theatre and ominously witnessed the Washington debut of John Wilkes Booth in the title role in Shakespeare's Richard III. The theatre has played a significant role in national events, boosting public moral in times of conflict, and serving as a focal point in the struggle for civil rights in the 20th century.
The National has had a diverse range of 6,000 performances over the 184 years in operation, from plays to dances, horse shows to circuses, and even a seance or two! However, our stage might be best known for hosting major theatrical performances, in particular, world premieres. Just a few of the beloved shows to make their debut at The National include Show Boat (1927), A Funny Thing Happened on the Way to the Forum (1962), Fiddler on the Roof (1964), Hello, Dolly! (1964), and more recently, West Side Story (2008), If/Then (2013), Mean Girls (2017), and Beetlejuice (2018). Of course, with such a vast history, virtually every great performer since 1835 has appeared on our stage, including John Barrymore, Joan Rivers, Carol Channing, Vivien Leigh, Laurence Olivier, Ian McKellen, Sarah Bernhardt, Spencer Tracy, Elizabeth Taylor, Katherine Hepburn, Angela Lansbury, Rita Moreno, Sting, and Idina Menzel. Washington actress Helen Hayes traced her theatrical career to the time she saw her first play as a young child in the balcony of The National Theatre. Miss Hayes returned to The National time and again in many of her most famous stage roles, and in the 1980s the theater dedicated the Helen Hayes Gallery in her honor and hosted the premiere presentation of her namesake Helen Hayes Awards.
Not all of the famous figures have been spotted on our stage. The National has welcomed every president from Andrew Jackson through George W. Bush to performances. President James Polk held his Inaugural Ball in the theatre. President Ronald Reagan helped reopen the theatre after major renovations in 1984. And President Abraham Lincoln's fateful night at Ford's on April 14, 1865, might have gone differently had the President used his tickets to see the performance of Aladdin's Magic Lamp on The National's stage that night.
These are just a few of the stories told from The National Theatre's extensive collection of materials. Consisting of playbills, photographs, articles, and posters, among other items, it is an untapped source of information for theater enthusiasts, producers, scholars, and historians. Currently housed at The National Theatre, these invaluable materials are in immediate need of conservation and preservation efforts. Plans for proper storage, access, digitization, and display are under development.
If you have pieces that you would like to donate to the Archives or are interested in supporting the Archives project, please contact our corporate offices at 202-783-3370.
Nederlander manages and programs the theatre, including the Broadway at The National series. The name "Nederlander" has been synonymous with great entertainment since 1912. Led by James L. Nederlander, President, Nederlander continues the tradition of operating historic theatres, as well as producing and presenting the best in theatrical entertainment and concert events. To learn more, please visit Nederlander.com.
The National Theatre Group
1321 Pennsylvania Avenue, NW 3rd Floor
Washington, DC 20004
202-628-6161
The National Theatre Corporation is a 501(c)(3) non-profit entity responsible for the continued operation and preservation of The National Theatre. Established in 1835, The National Theatre is the oldest continuously operating business on Pennsylvania Avenue and home to over 6,000 productions. Donations to The National Theatre are used to make necessary capital improvements to this historic facility, provide free community programming, support archival records, and to maintain oversight of operations of the theatre. The Board and staff serve as stewards in service to the goals of The National Theatre Corporation.
The National Theatre Corporation
1321 Pennsylvania Avenue, NW 4th Floor
Washington, DC 20004
202-783-3370
Board of Directors
Charles C. (Sandy) Wilkes, Chairman
Genevieve McSweeney Ryan, Vice Chair
Donald Borut, Treasurer
Carol Laxalt, Secretary
Richard Bradley
J.R. Clark
Ginny Grenham
Jonathan Kirn
Frederick L. Klein
Ginger Laytham
Daniel J. O'Neill, Jr.
Kelly Ripken
Michael Rogers
Michael G. Ryan
Christina Silberman
Honorary Board
John B. Adams, Jr., Chairman Emeritus
Jack Golodner
Sterling Tucker (1923 – 2019)
Our mission is to be the Stage for the Nation. Building on our 1835 foundation and legacy as a cornerstone of American theatre history, we:
Mission Statement
Serve the community by presenting the highest caliber performing arts ranging from Broadway productions to classical and popular entertainment to award-winning educational programming;
Promote Metropolitan Washington as a vibrant cultural destination; and
Contribute to the economic vitality of our Nation's capital.
Vision Statement
At The National Theatre we seek to:
Impact the future of American theatre by creating innovative, entertainment experiences through work of exceptional merit and the highest professional standards;
Inspire future audiences and performers through our decades-long commitment to diverse educational programs that develop intellect through creativity;
Celebrate our singular legacy as a historic cultural center in the heart of the Nation's capital; and
Preserve our place at the core of American theatre history as the venue where legendary performers and performances are experienced.
"What a pleasure you have given me and to countless audiences; the magic that begins when the lights dim, the curtain rises, and we are transported from a care-burdened world to one where the imagination and the creative muses lift our spirits high."

Helen Hayes
"When a show plays at the National it's playing for America."

Debbie Reynolds
"The National Theatre has never been just another theatre; it's part of ourselves, a part of our history as a nation and a people. It is and always will be our stage for a nation."

President Ronald Reagan
The National Theatre is a historic venue located in the heart of downtown Washington, D.C., just two blocks from The White House. The National Theatre has a capacity of 1,713* and is the perfect venue for concerts, Broadway shows, business meetings, comedy and family shows, lectures and community events.
*Capacity is subject to change, based on a specific performance or event.
To learn more or receive a technical pack, please email info@thenationaldc.com.